Seeking Qualified Sales Representatives in All Territories

A company or representative interested in representing ATC's product must be have experience selling steam traps, valves flanges, pumps, expansion joints, and other steam equipment to the industrial, chemical, petrochemical and other markets.
Advance Thermal  Corp. is the oldest (1984), most experience and the largest company in the market of Removable insulation covers.
We own and operate 2 large manufacturing facilities, in Texas and Illinois totaling 140 employees involved in design and manufacturing of quality insulation covers.
ATC's industry-leading HEATAINER® line of covers offers covers for a wide range of temperatures and service:
Heat conservation with a next generation PTFE-Coated Space-Jak® line of covers
Noise attenuation with our Acoustirap® three independent lab tested products
Steam & Gas turbine insulation systems designed to accommodate the specific designs of every individual turbine, manufacturer and brand name
Insulation covers for operating temperatures from 120°F to 2,000°F
Patent holder of S.L.I.M.® sophisticated thermal insulation matrix for the most demanding application, as well as fully submerged in manholes and tunnels of district heating systems, using hydrophobic Nano-technology insulation fillers and non-fabric jacket materials.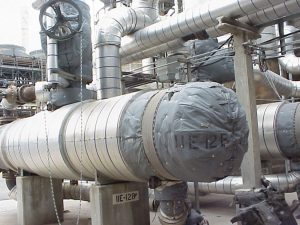 The company also provides 12 experienced Field Technicians custom measure every fitting or equipment we insulate, assuring perfect fit the first time around. Our misfit percentage is less then 1%!
Other benefits of representing Advance Thermal include:
One of a few companies on the market capable to manufacture covers using Solid Work 3D modeling in our comprehensive engineering department.
Over 25 years of experience working with OEM customers around the world.
The company provides free sales samples, literature and training.
There is great potential for a new line of the highest quality product on the market.
ATC products is an excellent "door opener" for your other product lines.
The firm provides competitive prices allowing for a higher markup.
To learn more, contact call at (630) 595-5150 or (630) 274-4204.
ISO 9001:2015 Certification for Continuous Quality
2008 - Current
Theodore H. Brodie Distinguished Safety Award - Bronze
2012
Theodore H. Brodie Distinguished Safety Award - Silver
2013