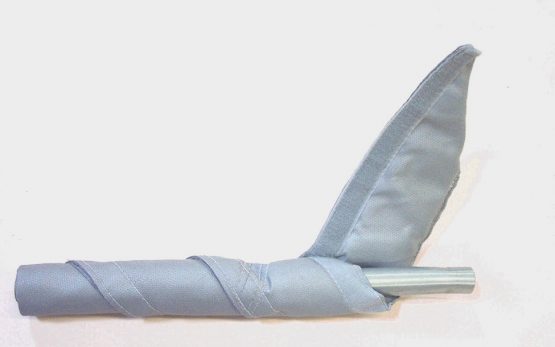 Modulated SPIRORAP®
Modulated SPIRORAP® is an easy, quick, and effective way to insulate small bore pipes and fittings, pilot lines, by-pass lines and flexible connections. 1/2", 3/4", 1", 1-1/4" tubing, pipes, threaded and welded valves, bends and elbows can be wrapped with this inexpensive, highly effective product.
SPIRORAP® is manufactured in 4 inch wide by 5 ft., 10 ft., or 20 ft. length rolls with or without hook and loop fasteners. Every 18", the SPIRORAP® is sewn with 2 rows of double stitches, 1/2" apart, creating modules. This simple but effective design allows for quick and easy custom sizing: cutting between the rows of stitches leaves a finished end and allows the wrap to be stopped where needed.
Installation of Modulated SPIRORAP® is quick and easy. The strip is spiraled on itself creating a solid cover with overlapping spirals. When the sewn-in hook and loop fasteners are used, every spiral is hooked onto the previous one, forming a closed cover. When no hook and loop fasteners are present, the spirals need to be fastened with standard electrical plastic ties which, when tightened, will hold the spirals together.
SPIRORAP® comes with a specially designed starting point, allowing for complete coverage from the very beginning. The modules are designed and manufactured in a special fashion, giving the user a complete no-voids cover for the complete assembly. SPIRORAP® is the easiest, quickest and least expensive way to insulate small bore pipes, tubing, and fittings that are hard to insulate with other methods. SPIRORAP® easily goes around bends, elbows, unions, small hangers and flex connections. Available for temperatures up to 1000°F.
To place an order, please call our main number at 630.595.5150.