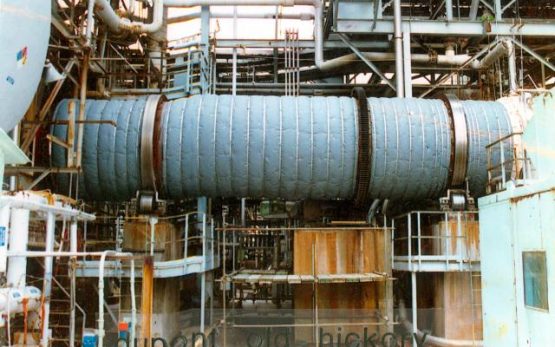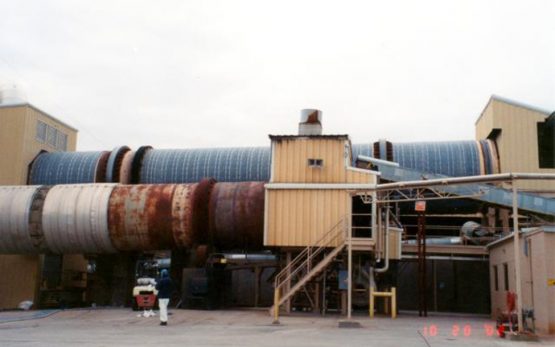 Rotating Dryer HEATAINER® Removable Insulation System
Rotating Dryers are a difficult piece of machinery to insulate even with Removable Insulation Systems, yet they can be the source of significant energy loss if not properly insulated. Lost Energy = Lost Profit! Removable insulation covers around the dryer provide great heat savings, stabilize the drying process and improve employee safety.
For a plant that operates 24-7, minimizing downtime is critical. For this reason, Advance Thermal Corp. has developed a special design for a HEATAINER® Removable Insulation System and supplemental installation procedure that allows the blankets to be installed in 6 to 8 hours without scaffolding.
Benefits of the Removable HEATAINER® System
vs. Conventional Insulation (Hard Covering)
Rotation and Vibration cause hard covering to fall apart over time. HEATAINER® Soft Blanket Systems are not affected by these operating conditions.
Blankets are easy to remove and reinstall for maintenance and weld inspection. Hard covering is a one-time-use, so if removed, a new one must be purchased and installed again.
Blankets dramatically reduce the downtime of the dryer.
In time, damaged, broken or worn blankets only require new blankets for the component that needs to be replaced (blankets for the entire dryer are not required). The dryer can remain in operation while ATC manufactures the required components. New hard covering needs to be applied to an entire section of the dryer. The entire dryer needs to be out of service while the new covering is being installed.
Advance Thermal Corp. has successfully designed and installed a large number of HEATAINER®Insulation Systems for Rotating Dryers all over the United States.