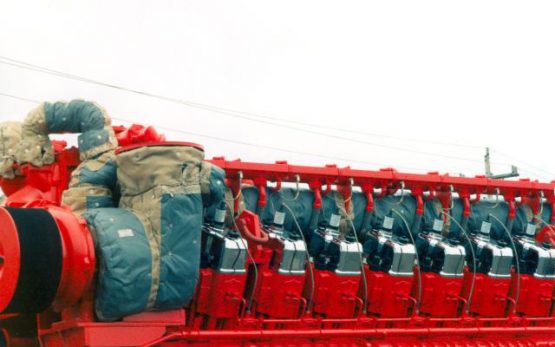 Exhaust Manifold Enclosures
Advance Thermal Corp. offers state of the art U.S.A. built insulation systems for exhaust manifolds for a large variety of diesel, gas, and dual fuel engines.
Years of experience allow us to incorporate cutting-edge technology coupled with superior design and choice of materials capable of withstanding the toughest conditions for manifold insulation. An exceptional combination of tested materials provides blankets with the ability to retain energy and provide for higher efficiency of the turbochargers.
In addition to the above, our specialty covers help reduce engine compartment temperatures from 1200 °F, (common operating temperature for most exhaust manifolds), to 350 °F - 400 °F. In some cases, such as in the Gas Fuel engines, the temperature of the engine compartment is a very critical issue, since it can affect the performance of the spark plug coils. Advance Thermal Corp. covers can solve this problem by bringing the temperature down to 200 °F.
Along with insulation systems for manifolds, Advance Thermal Corp. has great experience in insulation systems for various exhaust piping and mufflers for heavy mining trucks and other heavy machinery. Our blankets protect the sensitive onboard electronic devices and controls from becoming overheated, as well as provide excellent personnel protection.